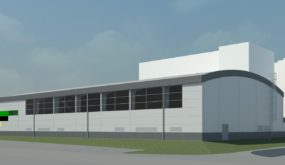 The athletes in the town of Jeseník will soon get a new sports hall, prepared in the BIM system in our Studio A1.
A new sports hall shall be built in the town of Jeseník this year, replacing the original hall that is already inadequate. The building is well integrated into the outskirts of the town where there is already a football field and an open-air swimming pool.
The new hall, as well as the original hall that will be demolished, will be an extension to the existing building of a secondary school and a vocational school. The building is designed in a way as to meet the requirements of the investor who wants to provide physical education in the neighbouring school and extra-school activities to the general public. The multi-purpose sports area allows futsal, floorball, basketball, volleyball and other sports. The spectators will be able to watch them all from a tribune with a capacity of up to 400 spectators.
The mass of the main part of the building is rectangular, with the playing area and climbing wall taking the biggest portion of the space. The surrounding area offers changing rooms and sanitary backrooms for players and the public. The connection with the existing school building is via a "tunnel" where the technological rooms are located. A buffet and clubbing room will be situated on the second half-storey. In terms of the building structure, this is a steel frame skeleton based on reinforced concrete footing. The cladding is made of sandwich panels with an insulating liner. The building is designed to meet the current legal requirements for buildings with nearly-zero energy consumption.
Already since the initial study, the entire design was prepared using the BIM software. This design solution brings the investor a number of benefits. It gives the investor a better idea of how the space is shaped, of architect's ideas and the possibility of "touring" the building throughout the design process.  It was in this software that the basic technological routes and their mutual coordination were handled, which significantly reduces the risk of later collisions during construction. A huge benefit for more demanding designs is that a large design team can work on them simultaneously. This reduces the preparation times.
For the investor, the town of Jeseník, we are preparing all design stages from the study to the detailed design to architect's supervision.
Chief project engineer: Ing. Tomáš Pulkrábek
Architect: Ing. arch. Radoslav Novotný