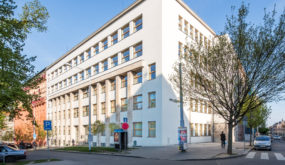 The building of the existing Zahradníkova Polyclinic, which was built between 1922-1924 and 1927-1928, gained a more up-to-date appearance thanks to the restoration of its facade that is subject to preservation
The Zahradníkova Polyclinic is the centre for a number of general practitioners as well as the out-patient clinic of specialised physicians. There are an operating theatre, rehabilitation, laboratory, pharmacy and other facilities in the building, serving the needs of the polyclinic.
The Zahradníkova Polyclinic structure is a cultural monument and lies in the Protected Area of the Brno City Preservation Zone. The Polyclinic building (originally the Ambulatorium) was built in the late 20th century in the functionalist style according to the design of architect Jindřich Kumpošt (1891-1968). The adjoining apartment house Veveří 64 was later connected to the building. (Find more information on the history of this building here.)
The project involved the execution of Phase I of the reconstruction where the culturally protected facade in street Zahradníkova 2-4 was restored, the facade in street Veveří 64 was reconstructed and a new LV switching station was built instead of the original substation.
The polyclinic building has been preserved in terms of its mass, layout, exterior and interior with original architectural features and details such as "American" windows and travertine wall tiles.
You can check the outcome of the reconstruction of the polyclinic building on the photos below.
Ing. arch. Kamila Pohanková
Autor of photos: Jaroslav Mareš,  Hivision.cz