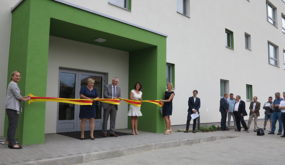 On Sept 1, 2017 an Open Day took place in the new extension to the primary school in Židlochovice.
The design comes from the architectural and design studio Arch.Design. The design concept consists in the creation of a lapidary mass which will – in its pure form – allow the pupils and teachers post-shape the space around them according to their own current needs.
The overall visual appearance of the building will therefore vary over time. The elementary mass solution enables compliance with passive building standard requirements for which the structure was designed.
It was already during the design that great emphasis was placed on the air-tightness of the building shell. BlowerDoor tests were performed within the building, the main purpose of which was to detect possible deficiencies and leaks in the building shell. Only a few leaking points were found and they were quickly fixed. Everything ended up very well, the air-tightness of the building is on a very high level and the passive standard is met. Now the building is completed and ready for the new school year to welcome its pupils.
The design, which Arch.Design prepared, includes the interior design which is generally more "fun" when compared with the conservative facade. The reason is that the interior is intended for the younger pupils. A distinct element in the generous open space of the corridors is the railing of the main staircase. Its colour scheme was achieved by using a variable, grading colour range. On top of that, the room entrances, building entrances and the individual functional areas are highlighted. The decorative design concept of the individual elements is not a purely aesthetic matter, but shall primarily improve orientation in space.
The tape cutting ceremony was also attended by the mayor of the town of Židlochovice Ing. Jan Vitula, the primary school director Ing. Jana Králová and of course the representative of Arch.Design Ing. Ivo Kovalík – CEO, Ing. arch. Michal Šírek and Igor Sedlák.
We wish the pupils from Židlochovice and their teachers a successful school year 2017/2018!