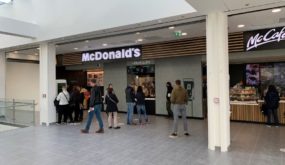 In previous year we have been occupied by contracts for our good client – McDonald's restaurants. One of them was also in shopping mall Háje in Prague.
We have provided for fast food, placed in second floor, complete design documentation for Shell&Core and FitOut. Our services included of course dealing with authority's permissions and providing architect's supervision. Besides standard fast-food is there also Kid's Corner and McCafé counter.
Restauration is opened for public since October. Due to government restriction, there is now possible only orders to go.
Petr Ježek, Petr Doležal