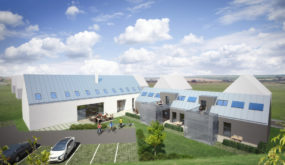 The A6 Studio prepared the architectural study of a family-owned guesthouse.
The study was prepared for a location at the end of the Sedlešovice municipality near Znojmo. The site connects to the preservation zone of Modré sklepy wine cellars. This wine micro-region Modré Hory (Blue Mountains) covers five Moravian wine-growing villages, with the town of Velké Pavlovice in the southernmost tip of Moravia being the their leader. The guesthouse was designed as a set of three structures: the main building with a restaurant, accommodation capacity and backrooms for the entire premises, a structure for accommodation with six apartments and a technical structure. The guesthouse will be primarily used during the summer months for those interested in cycling.
The mass of the premises constitutes two simple structures with two storeys above ground with a saddle roof which carefully supplements the nature of adjacent development. The architecture is simple and up-to-date.
Ing. arch. Robert Juřík